Which hotel in Crete for the perfect Greek getaway?
When considering a Greek holiday, for many, the stunning and beautiful island of Crete is the first that jumps to mind. And for good reason, steeped in natural beauty and history, it is a destination you must add to your bucket list! And of course, there are an abundance of luxury hotels in Crete, from quaint boutique hotels to all inclusive five-star resorts which offer a taste of what life might be like as a Greek god. It can be hard to know where to go and what hotel to choose. Let us help! We'll introduce you to some of the best locations around the island, including the most paradisiacal beaches, and where to experience the most authentic Crete.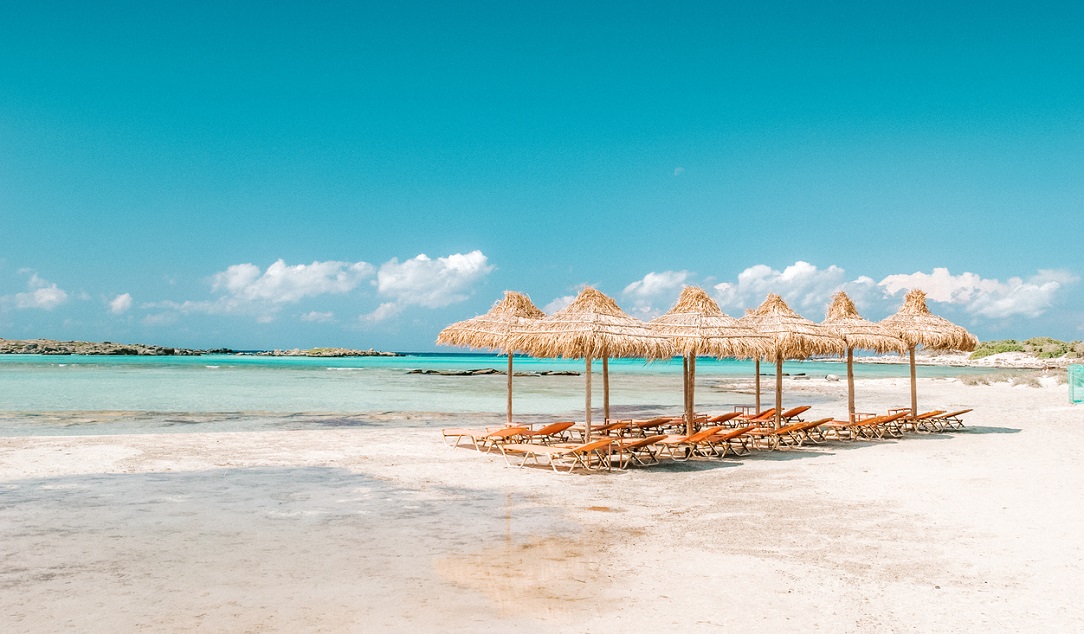 Discover our 3 offers in :
The four main prefectures on the island of Crete are: Chania, Rethymno, Heraklion, and Lasithi. In the west, Chania boasts a beautiful Old Town, over to the northern coast, Rethymno has a charming Venetian Harbor and a lighthouse that dates to the 1830s. A little further along, is Heraklion, the Cretan capital and home to the grand Palace of Knossos. Lastly, Lasithi is the beautiful eastern region, whose capital is the enchanting town of Agios Nikolaos.
First lets identify the best beaches in Crete
For most, the ideal Greek escape means residing by a beautiful beach. Whether you're looking to bask in the sun or indulge in some water sports, being able to wake up and head straight down to the Mediterranean Sea and burying your feet in the sand, is pure bliss. Here is our pick of the best beaches in Crete:
Beaches in Chania:
Balos beach – north-westernmost part, gives you access to a secluded lagoon
Elafonissi – southwest of the island, popular for its pink-looking sand
Seitan Limania – a peaceful cove and beach set in-between the rock formations
Beaches in Rethymno:
Bali Beach – surrounded by the beautiful nature of Crete
Preveli Beach – along the coast of the south, right where Kourtaliotis River meets the Mediterranean Sea
Agios Pavlos Beach – well equipped and stunning scenery.
Beaches in Heraklion:
Ammoudara Beach – close to the centre of Heraklion
Potamos Beach – located in Malia, splendid waters
Karteros Beach – popular spot along the northern coast, good for water sports.
Beaches in Lasithi:
Kolokitha Beach – bright blue waters on the peninsula of Spinalonga
Vai Beach – located on the most eastern edge, surrounded by palm trees
Istro Beach – an ideal spot for diving.
Now, which beachside hotel to choose?
Now that you have an idea of the best beaches to spend your days, you must find a perfect hotel to match, with easy access to your favourite beach. There are plenty of offers available on establishments that overlook the sea, or ones that are slightly more secluded but allow you to reach the most pristine beaches.
The Amirandes Grecotel Exclusive Resort, is an excellent choice, with a privileged location that provides direct access to a private beach. This five-star resort is a dream come true, with outstanding services and amenities, and an immense infinity pool that perfectly blends with the ocean. Find everything you could need at your fingertips.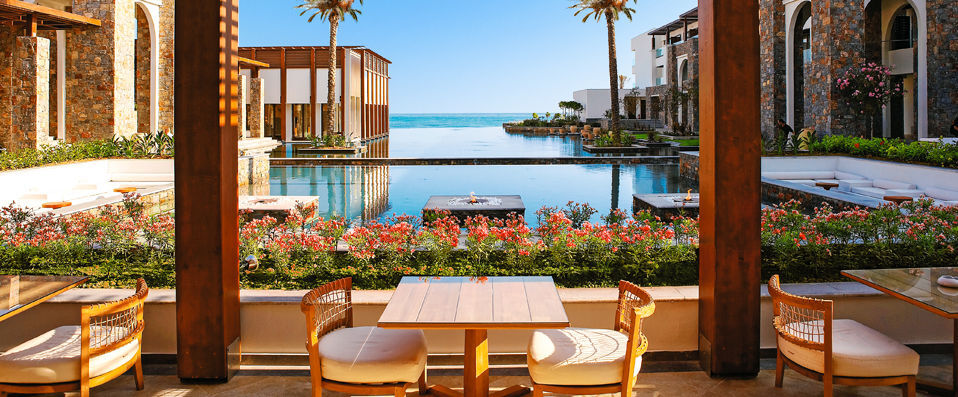 Are there any Adults Only hotel in Crete?
If you're looking for an upscale hotel by the sea, but that offers a tranquil, refined and sophisticated setting, then you will probably want to find yourself an adults only hotel or resort.
The Niko Seaside Resort MGallery, is perfectly positioned on the east coast of Crete, in lively Agios Nikolaos. Importantly, it welcomes with open arms only guests who are over the age of 18. It is the ideal choice for those looking for an intimate ambiance, possibly on a romantic getaway in Crete. Expect a sleek and modern design throughout, creating an upscale atmosphere. The adults only policy makes it a little extra special.
Are you looking for rest and rejuvenation?
For many, when considering a holiday in Crete, rest and rejuvenation are on their mind. Of course, for this then a hotel or resort complete with a sumptuous spa is a must. Whether you're looking for a last-minute getaway to escape the stress of daily life, or booking ahead to for a summer holiday, there are plenty of options to choose from:
The Royal Senses Resort & Spa Crete, Curio Collection by Hilton offers an endless selection of five-star rooms, suites and villas with gorgeous sea views and private pools, located in a tranquil spot on the northern coast of Crete. The cuisine is based on an organic farm-to-fork Slow Food concept, and of course there's the excellent and extensive Pure Senses Spa. For those travelling with children, the kids club will ensure parents get their relaxation time.


I Resort Beach Hotel & Spa is located right on the seafront in Stalida, this five-star hotel boasts the AEGEO SPA, which offers an extensive selection of treatments and massages. Starting from exfoliating and nourishing body or face treatments and moving over to a complete wellness experience, where you are made to feel like a true Greek god or goddess, either alone or with your loved one.


The St Nicolas Bay Resort Hotel & Villas is one of our favourites. This five-star resort is set along the eastern coast of Crete offering seclusion and comfort with its own small beach, sun terraces and infinity pool, all with beautiful views over Mirabello Bay. Its Poseidon Spa will awaken your senses and create a personalised revitalising experience thanks to the highly trained therapists and the use of aromas and therapeutic treatments. The excellent facilities include a beauty salon, thalassotherapy centre, Turkish steam bath and sauna, hot tub, and relaxation rooms. With so much on offer you'll be spoilt for choice!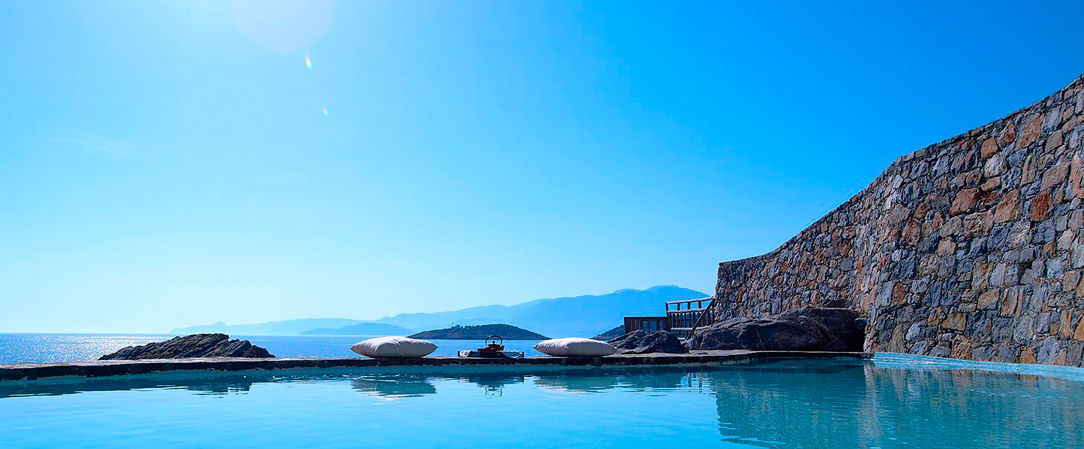 Immerse yourself in the culture and history of Crete
Crete is a destination that is rich in heritage and ancient history, it is centre stage for many tales in Greek mythology, and is also home to some splendid archaeological sites, filled with impressive ruins. Find an ideally located hotel to help you unveil some of these extraordinary hidden treasures spread across the island of Crete, that are positioned close to some of the best attractions.
Myrion Beach Resort & Spa a five-star resort situated in Gerani, enjoy a tranquil stay at this hotel that boasts outstanding facilities and an excellent location to discover your surroundings. Not too far from Chania old town, you can venture into the centre and visit the Old Venetian Port, the Maritime Museum, and the Firka Venetia Fortress. Still in the Chania prefecture, you can head down south and hike around the White Mountains Forest Preserve and discover the breath-taking landscapes.
The Nautilux By Mage Hotels is a five-star hotel which is recognised as one of the best all-inclusive resorts in Crete, it is a splendid and innovative hotel in the town of Rethymno, with direct access to the beach. Nearby you can find the Venetian Fortezza Castle a 16th-century monumental ruin. Head into the inland and find the hidden Arkadi Monastery, also from the same century, which is a stunning architectural church in the Cretan hills.


Elounda Palm Hotel & Suites this four-star hotel is a warm and welcoming address, surrounded by 150 Cretan Date Palm trees, which provide the inspiration for its the name. The hotel sits on the eastern coast, allowing you to easily reach the Spinalonga peninsula, where you can visit the Archeologikos Choros Olous and take a dive to find ruins of an ancient underwater town. Also visit Spinalonga Island, an historic destination home to an ancient fortress that offers panoramic views of the coast.