Which are the best hotels in London?
London: the majestic and culturally vibrant heart of the United Kingdom which entices flocks of nearly 20 million tourists annually. Choose a hotel in the heart of London to experience a melting pot of culture, cuisine, history, art, and architecture. Its world-famous skyline sees a fusion of gothic and contemporary architecture, and VeryChic provides exclusive offers in some of the best four and five-star luxury hotels in London, from which to take it all in. See the Tower of London, Big Ben, the London Eye, visit the famed Westminster Abbey, Buckingham Palace and Tate Modern, and spot the iconic black taxis and red buses along the way! The question is, where to stay in order to make the most of this truly iconic city break destination?
In a city that has so much to see and so many visitors, London's hotel scene is at the top of the game. From hotels in Shoreditch, the creative and experimental heart of the capital city, to hotels in Paddington, the historical yet cosmopolitan area of West London, every London borough is sprinkled with premium accommodations, meaning you are certain to find your ideal place to lay your head in the British capital.
Which boroughs should I choose for the perfect stay in London?
London is an extraordinary city of 33 distinctive boroughs, each with their own style and vibe. From the regal West side to the hipster East End, it can be difficult to know where to start when planning your perfect stay. So, here is a guide to the best boroughs in which to find your ideal establishment!
Hotels in Westminster
Westminster is home to some of London's most famous attractions that are on every traveller's bucket list, including Buckingham Palace, London Zoo, Trafalgar Square and The Houses of Parliament. This exciting borough is also the theatrical heart of London's West End, with dazzling productions being held on renowned stages, such as The Price of Wales Theatre, the London Palladium and the Apollo.
Many of London's Westminster hotels are as ritzy and as regal as the borough itself. The best hotels are peppered across Westminster's trendy districts, such as…
Victoria:
Victoria attracts travellers with its great transport links and central location, with London Victoria station being just 200 metres from Buckingham Palace and many luxury hotels, such as the sumptuous Doubletree by Hilton London Victoria.
Soho:
The trendy hangout spot of Soho is a refreshing blend of eccentric and classy, where Londoners and tourists pour into the vintage boutiques, record shops, exclusive galleries, and some of London's best restaurants.
Leicester Square:
A vibrant hub of shops, bars, and restaurants, Leicester Square is framed by red carpets leading up to film premieres. Whilst it is not the most picturesque district, it certainly is one of the most culturally important, as it is the epicentre of London's entertainment.
Covent Garden:
The enchanting neighbourhood of Covent Garden is a great choice, not only is it a hub for charming restaurants and bars and home to Covent Garden Market, it is also within walking distance to many other London hotspots, it's a great choice for first-time visitors.

Hotels in Hackney
Stretching out to the northeast of central London, the Borough of Hackney is one of the city's smaller boroughs. The borough boasts a rich heritage and a large variety of architectural styles. The southwest of the borough, in particular, is a hub for restaurants, bars, and clubs, and is a major centre for the London arts scene.
Hotels in Shoreditch and Hoxton:
The border between these two neighbourhoods is a little blurry, both are trendy neighbourhoods full of markets, shopping centres, street art, galleries, low-key bars, and cool cafes and restaurants. If you're looking for somewhere to stay in East London, here is the best places to stay. Hotels here are inspired by the diversity and originality of their neighbourhoods with down-to-earth yet trendy contemporary décor.

One of our favourite hotels is the effortlessly cool, cosy, colourful and fun Mama Shelter London Shoreditch, featuring stylish yet quirky design, a delicious restaurant and serious comfort.
Hotels in Kensington and Chelsea
The Borough of Kensington and Chelsea is one of London's most affluent boroughs, boasting lush parks, avenues laced with tall trees, and splendid views as you stroll along the riverside. In this handsome and wonderfully groomed borough, you'll uncover a melange of exquisite dining and shopping experiences, elegant parklands and some of London's finest museums.
Hotels in Kensington:
Hotels in this neighbourhood offer a periodic grandeur that mirrors the borough's elegant streets, and enjoy an ideal location near London's Hyde Park, London's "Museum Mile", and the luxurious boutiques of Knightsbridge and Harrods department store. If you're seeking an opulent stay in a fabulous yet family-friendly location, Kensington is the perfect neighbourhood for you.

Hotels in Canary Wharf, Borough of Tower Hamlets
Canary Wharf is an area of East London, in the Borough of Tower Hamlets, it is a important business and financial district containing numerous high-rise buildings, including the UK's third-tallest, One Canada Square. Canary Wharf is a thriving urban hub consisting of towering office buildings interspersed with luxury residences, and more and more hotels. There are also plenty of shops, café's and bars, along with year round events and exhibitions.
A fantastic choice of hotel here, is the four-star Novotel London Canary Wharf. This stylish hotel featuring a roof terrace with 360° views across the London skyline, also boasts an on-site gym, pool and contemporary restaurant and bar.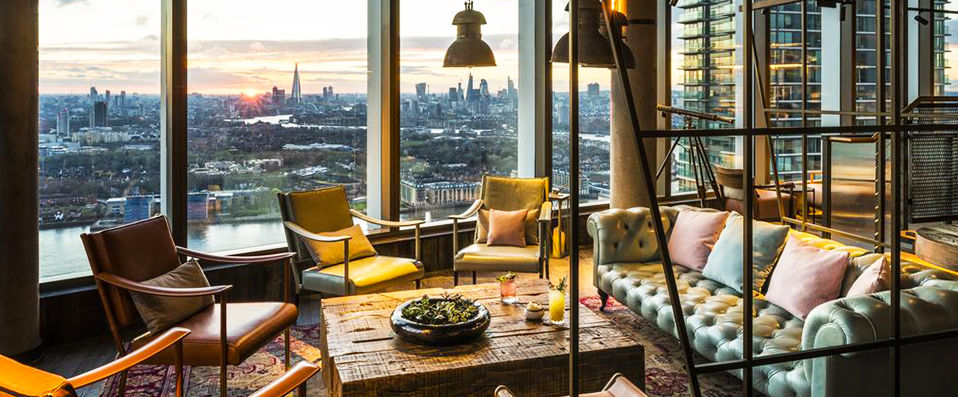 Hotels in Lambeth and Southwark
The boroughs of Lambeth and Southwark stretch down from the south bank of the River Thames, opposite Westminster and the City of London respectively, and are home to a number of major attractions in the city.
Hotels along the South Bank by London Bridge:
The South Bank stretches across the southern bank of the river, through both the boroughs of Lambeth and Southwark. This riverside area is full of plenty of attractions from the iconic London Eye to Shakespeare's Globe theatre and the Tate Modern, and near London Bridge you'll find The Shard, the UK's tallest skyscraper and Borough Market, London's most famous food market. Hotels here, offer stylish contemporary design, often with fantastic views of the river and London skyline.
What type of luxury London hotel should I choose?
From prestigious four and five-star townhouse hotels, to spa hotels or even holiday apartments, London has a sensational collection of luxury accommodations to fulfil your every desire! Here is a guide to help you choose your perfect luxury stay in London.

4-star hotels in London
To guarantee a certain level of comfort and style for your visit to the UK's capital, choose from the outstanding array of four-star accommodations available, with fabulous hotels such as the Doubletree by Hilton London Chelsea, in glamourous Chelsea, or the charming The Colonnade Hotel London, in the heart of Little Venice!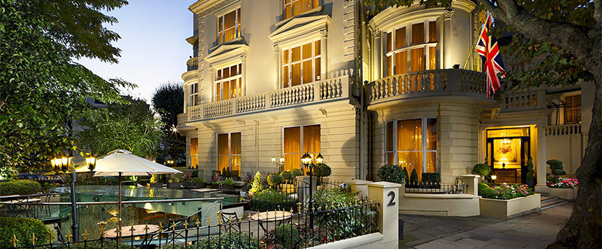 5-star hotels in London
To experience true opulence and grandeur choose one of London's many five-star hotels. These luxurious hotels offer guests more than just a room; they offer a sensational experience. If you're seeking a once-in-a-lifetime stay London, hotels such as the spectacular and quintessentially British Royal Garden Hotel: a London hotel near Hyde Park, neighbouring Kensington Palace.

London hotels with a spa
During your busy weekend or holiday in London, you may find yourself longing to escape the hustle and bustle and enjoy a moment of tranquillity and relaxation; so why not choose from one of London's numerous hotels that come complete with a spa? Following an energetic day of exploration, you can retire to the hotel's soothing spa and delight in a massage or beauty treatment, or even relax in a sauna or heated pool to rejuvenate for another exhilarating day! Our suggestion would be the stylish four-star K West Hotel & Spa, a luxurious boutique retreat in West London's Shepherds Bush, close to Westfield shopping centre.

London holiday apartments
If you want a taste of true London life, why not stay in a London apartment? This offers a unique space in which to feel like a resident of this great city, whilst being situated amidst all the greatest attractions and sights that London has to offer.

Our suggestion would be the four-star The Gate Aparthotel London, just minutes from Aldgate East and Aldgate underground stations, at the gates of the City of London, near the trendy neighbourhoods of Shoreditch, Hoxton and Hackney. The apartments are housed in an iconic twenty-one storey Flatiron-style building, providing a modern, stylish and superbly comfortable home-from-home exerience, perfect for both short and extended stays.
What are the best offers available for hotels in London?
Before you book your hotel in London, whether you are searching for a trendy stay in a hipster neighbourhood, or a majestic stay in an upmarket, cosmopolitan borough, it's worth taking a moment to find the best deal available. At any given moment it's always possible to find a number of special offers on London hotels, that you can indulge in to make the most of your holiday.

Special offers on London hotels
As an exclusive member of VeryChic, you have access to the some of the best offers on the best hotels and getaways around the world, including in London! With incredible discounts of up to 70% off, there's no reason not to luxuriate in one of our hand-picked hotels.

Last minute London hotels
Can't wait to get away? With VeryChic Tonight, you can book a last-minute luxury hotel, while still enjoying exceptional prices, and check-in within the next few days! Why wait to experience all the wonders that London has to offer, when you can enjoy it all now?